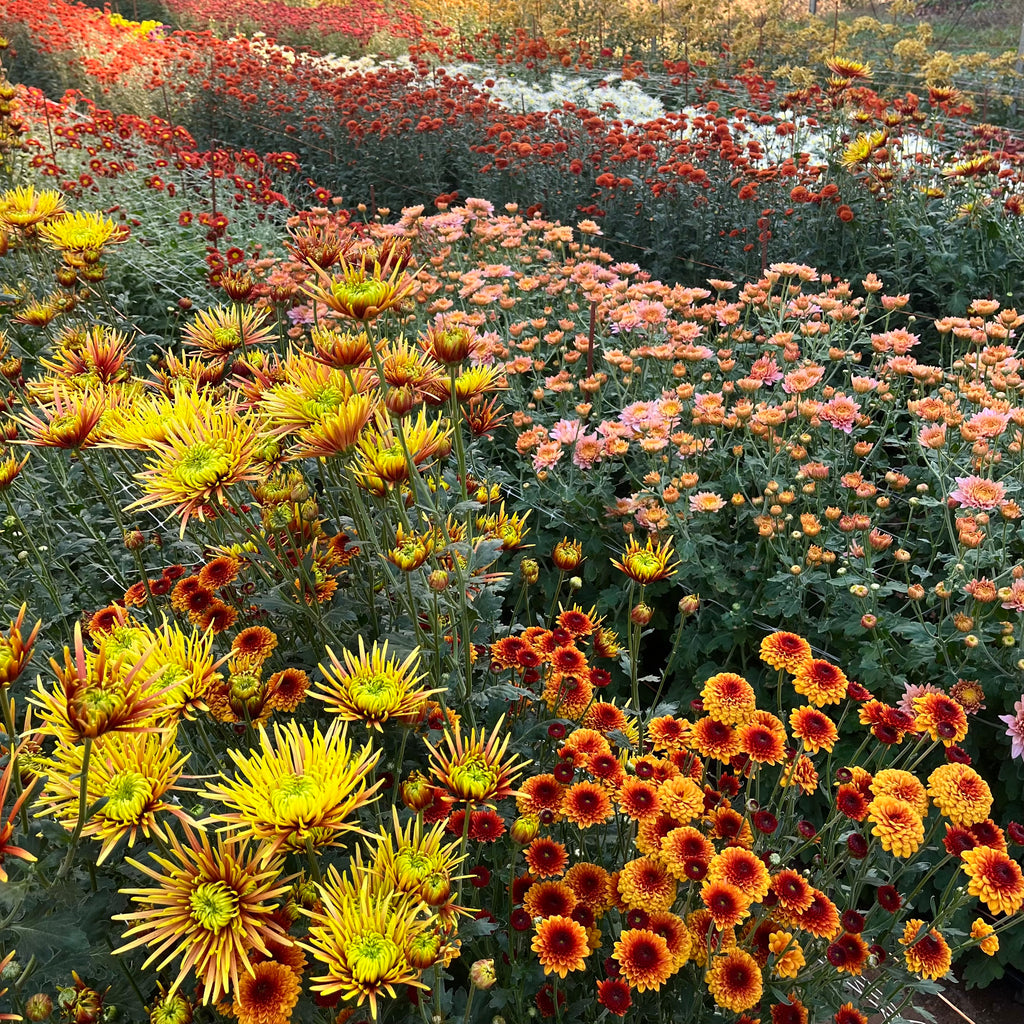 Fresh Cut Flowers Shipped || Autumnal Gratitude Mix
Fresh Cut Flowers Shipped || Autumnal Gratitude Mix
Introducing our Autumnal Gratitude Mum Bouquet! Order now and guarantee that you will bring the Fall flair to your holiday events whether it be Thanksgiving, Friendsgiving or a dinner party. This bundle will include all of the best mums from our farm that week! We will be shipping out the week before the holiday week to guarantee that they will get to you and not be held up due to shipping delays on a holiday week. Mums have an incredibly long vase life so you will not have to worry about them dying before your event!

We recommend going out into your yard and finding various foliage to add to your mix! We recommend evergreens, long grasses and branches with great Fall color! Get creative with it!
Approx. 10-12 stems per order-- multiple blooms per stem! Creates a large sized bouquet. Many of our fancier Mum varieties will be found in this mix .
Vase life: 10-14 days
***All of our flowers are sent FedEx Priority Overnight to ensure your flowers get to their new homes as swift as possible. Flowers will arrive at your door Wednesday-Friday, and you will choose the arrival day at checkout. If you are also purchasing *non flower* (seeds/salt/chai etc) products with your flower order, please note that these are not guaranteed to be shipped with flowers and may be shipped separately via USPS. **
Remember to always give your vase a good cleaning and fill with fresh water before adding your flowers. Give your flowers a fresh cut before placing in water. Allow them to hydrate for about 6 hours before arranging. Click here for more info on keeping your flowers their freshest. 
Please be sure to review our Terms and Conditions for Shipped flowers.
*** Please double check that you are entering the correct address for yourself or recipient. Flowers are non-refundable for orders that were shipped to the incorrect/invalid address.
***If ordering for multiple destinations, you will need to place a separate order for each address. Same with ordering different arrival dates, or we'll default to the latter date!
***Each bundle comes with extra stems just in case a few get damaged in shipping.