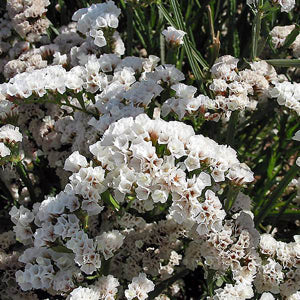 Statice 'QIS White' Seeds
Statice 'QIS White' Seeds
Limonium sinuatum
A gorgeous easy to grow flower that is a must-have for dried flowers. This white statice is tinged with the tiniest bit of blush pink. Enjoy for a while in a vase and then hang upside down to dry to be perfectly preserved!
Plant Type:
 Annual
Germination:
  5-14 days at 70°F
Height:
  24"-30"
Light Preference:
Full Sun
Days to Maturity: 90-100 days
GROWING INSTRUCTIONS
Sow 5-6 weeks before last frost, barely covering the seed as light is required for germination. Provide temperatures of 60°F for 1-2 weeks after the seedlings emerge to encourage rooting. Transplant to a larger container when true leaves appear. Harden-off and plant outside after the last frost. Direct seeding is not recommended.
Seeds per packet: Approx  100