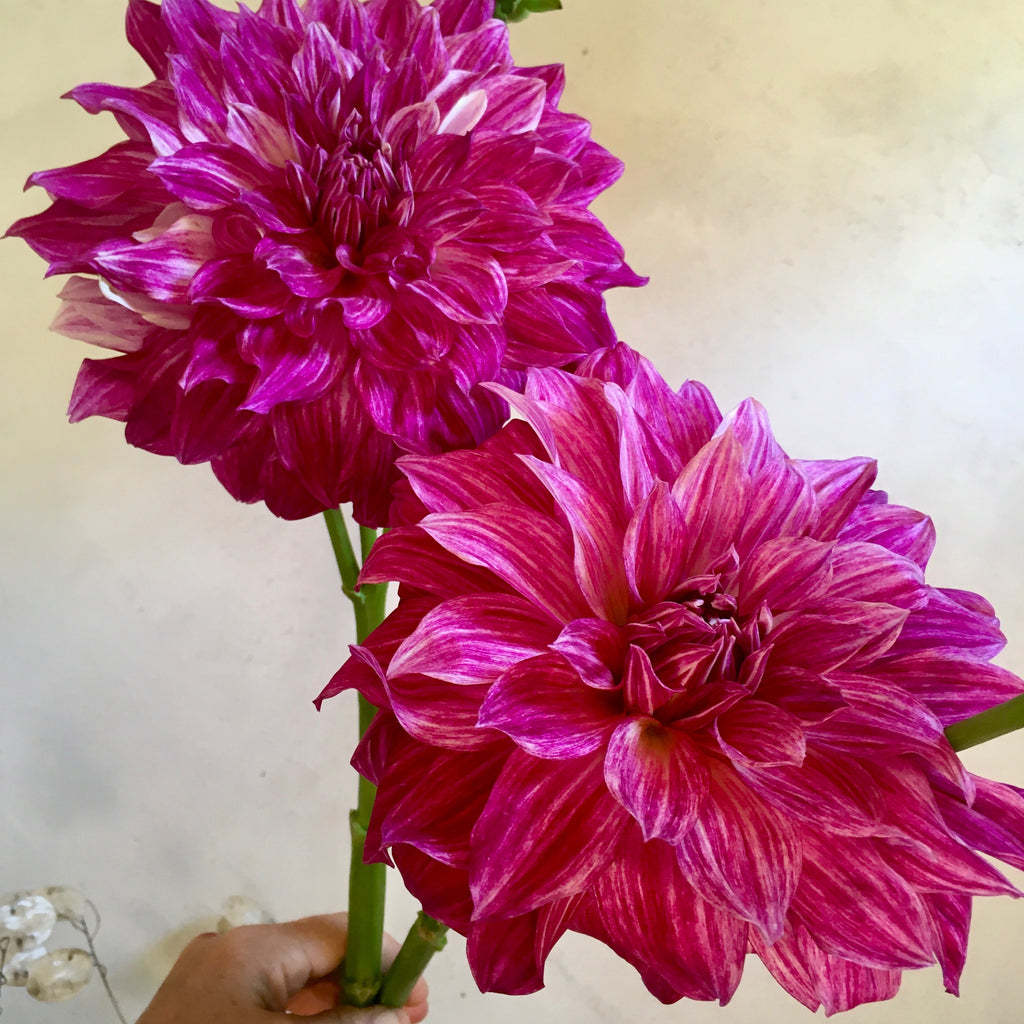 Fresh Cut Flowers Shipped || Dark Café Au Lait Dahlias
Fresh Cut Flowers Shipped || Dark Café Au Lait Dahlias
Welcome to dahlia season y'all! Now is your time to get your fix. Each box will be packed with 10 stems of these dark Café Dinnerplate dahlias! These large beauties are great for weddings or events... or really anything!
Comes with a packet of flower food that we recommend using to keep them looking as fresh as possible and aids to extend their vase life.
Vase life: 2-4 days
** PLEASE READ: Dahlias are arguably some of the most beautiful flowers in the world, but that beauty is short lived. If you are looking for flowers to last you a week or more, then this is not the purchase for you.  2-4 days is common in a vase, so plan your arrival date carefully if they are for an event, and make sure to paint them, photograph them, or just enjoy them fully within a day or two of their arrival.  We will provide a packet of flower food to help elongate their vase life, but it's important that you have someone receive them immediately upon arrival and get them into a clean vase with a fresh cut to ensure best performance.  Clean your vases with a disinfectant such as bleach to  prevent bacteria/fungal bloom.**
Remember to always give your vase a good cleaning and fill with fresh water before adding your flowers. Give your flowers a fresh cut before placing in water. Allow them to hydrate for about 6 hours before arranging. Click here for more info on keeping your flowers their freshest. 
Please be sure to review our Terms and Conditions for Shipped flowers.
 ***Non-flower products purchased with flowers WILL NOT be shipped/overnighted with your flowers and will be sent via USPS.
***Flower availability will be updated each Friday at Noon
***If ordering for multiple destinations, you will need to place a separate order for each address. Same with ordering different arrival dates,
or we'll default to the latter date!!
***Each bundle comes with an extra dahlia just in case any get damaged in shipping.